Hunza, also known as the 'Heaven on Earth' is our most favorite place in Pakistan, especially the Karimabad City. It is at a distance of nearly 200KM from Gilgit city and of approximately 3 hours of drive through most scenic and beautiful valleys. We last visited Hunza on our trip to Khunjerab Pass and stayed there for 3 days, and it is part of our current itinerary too.
As we have left the jeep that, we hired from Raikot for our Skardu trip, so we ask the Hotel staff to arrange for a car that can drive us to Hunza. Finishing our breakfast we placed our luggage in the car and our trip to Hunza started.
Hunza Valley situated at an elevation of 2,438 meters is one of the most exotic places in Pakistan. Surrounded by several high peaks rise above 6,000m, the valley is divided into three regions, Upper Hunza, Centre Hunza and Lower Hunza. Karimabad is the capital of Hunza Valley, lay in Centre Hunza region, and is named after Prince Karim Aga Khan, the spiritual leader of the Aga Khan Community. Hunza valley provides spectacular views of some of the most beautiful and magnificent mountains of the world that include: Rakaposhi 7,788 m (25,551 ft), Ultar Sar 7,388 m (24,239 ft), Bojahagur Duanasir II 7,329 m (24,045 ft), Ghenta Peak 7,090 m (15,631 ft), Hunza Peak 6,270 m (20,571 ft), Darmyani Peak 6,090 m (19,980 ft), and Bublimating (Ladyfinger Peak) 6,000 m (19,685 ft).
We are in the Kingdom of Himalaya and Karakoram with K2 (Godwin Austen), Nanga Parbat and other world's highest mountains nearby, along with both sides of Karakoram Highway there are green plains and valley surrounded by mountains with their summit covered with snow, these mountains are part of the Himalaya and Karakoram ranges. Considering the marvelous scenery and passing different cities like Sultan Abad, Rahim Abad, Chalt Valley, this is an extremely beautiful valley and visible from the Karakoram Highway on the other side of the river. Crossing many cities, we stop at a point known as Rakaposhi View Point. This is the base of Rakaposhi Mountain and complete view of the mountain, along with its peak is clearly visible from this place.
Rakaposhi, famous as the crown of Hunza & Nagar Valleys is the 12th highest peak in Pakistan and the 27th in the world with a height of 7788 meters. It is the highest unbroken slope on earth with its gleaming Gulmit glacier. The summit is almost 6 kilometers (5,838 meters) from Karakorum Highway. Rakaposhi is the only mountain on earth that plummets directly, uninterrupted, for almost 6,000 meters from the summit to its broad base, which measures almost 20 kilometers east to west.
From this spot, the complete aspect of the mountain, along with its peak is clearly visible. Thither is a restaurant, tuck shop and gems & handicraft shop. Cold and clear water is flowing from the glacier; we sit along the stream to enjoy this marvelous place. Capturing some photos our trip to Hunza started again. We are very fond of dry fruits especially from Gilgit-Baltistan, so we ask our car driver to stop at Aliabad for buying some dry fruits.
Situated on the main Karakoram Highway Aliabad is a business and commercial hub of this area. There are many hotels, restaurant, shops, banks and markets in Aliabad. Being on the Karakoram Highway this city is very busy and somewhat more crowded than the other towns in this area. People traveling toward Passu, Gulmit, Gojal, Sust, Khujerab, and China mostly break their journey at Aliabad for a rest and night stay. There are many transport companies operating in Aliabad. Many different types of transport like Buses, Coasters, Van, and Taxies are easily available here to go to different places in Gilgit-Baltistan and even to Rawalpindi.
Subsequently, a couple of kilometers from Aliabad we left Karakoram Highway and struck a left turn on an ascending road and in nearly 3 hours of drive from Gilgit we reached Karimabad city. Thither are many hotels in Karimabad, infect there are all hotels along the main road of Karimabad since Karimabad is a tourist place. All around the year, there is a number of tourists visiting this area, particularly in the summer season. In that respect are both luxury and budget hotels in Karimabad. However, we decided to stay at Hotel Blue Moon situated near the main market in Karimabad city, the same hotel where we stayed on our last visit to Karimabad. On the ground level are the shops and climbing some steps is the reception and food court of the hotel. Rooms start from the foremost floor. The hotel is at an awesome location, in front there is the beautiful valley of Hunza, with the view of Rakaposhi Mountain and behind is the snow-covered mountains of the Ultar Sar Peak and Ladyfinger Peak.
Ultar Sar is the southeastern most major peak of the Batura Muztagh, a subrange of the Karakoram range. It lies about 10km northeast of the Karimabad city and rises over 7,388m (24,239ft). The adjacent peaks are Shispare, Bojohagur Duanasir, Hunza Peak and Bablimotin. Another popular peak at Karimabad is the Ladyfinger peak. It rests on the southwest ridge of the Ultar Sar massif, the most southeasterly of the major groups of the Batura Muztagh. The whole massif rises precipitously above the Hunza Valley to the southeast.
Hotel Blue Moon is an average hotel in an old building, on our last visit it was not well painted, no beautiful carpets but the service and the staff was excellent but this time it was all opposite, the building was painted, they have new carpets but the staff is lazy and careless. However, because of its excellent location, we decided to stay at Blue Moon.
From the balcony of the hotel, we can view the hypnotizing scenic view of The Hunza Valley. The valley in front of us is lush green with countless trees of Apple, Apricot, Walnut and many more; below in the valley, we can abide the Hunza River flows in between these trees. Either you look in front, at the left, right or back there are trees all around surrounded by snow-covered mountains.
In addition, from the rooftop, at the back of the hotel, the view was alluring; from here, we can see the valley of the Altit and Duikar. The green plains, the woods, the sights and the waterfall on the Altit side is magnificent and the historic Altit Fort and the Eagle's Nest in Duikar can be observed at a distance. The spectacular view makes us feels like we are on the roof of the world, surrounded by snow-covered mountains. No wonder this place is famous as the "Heaven on Earth".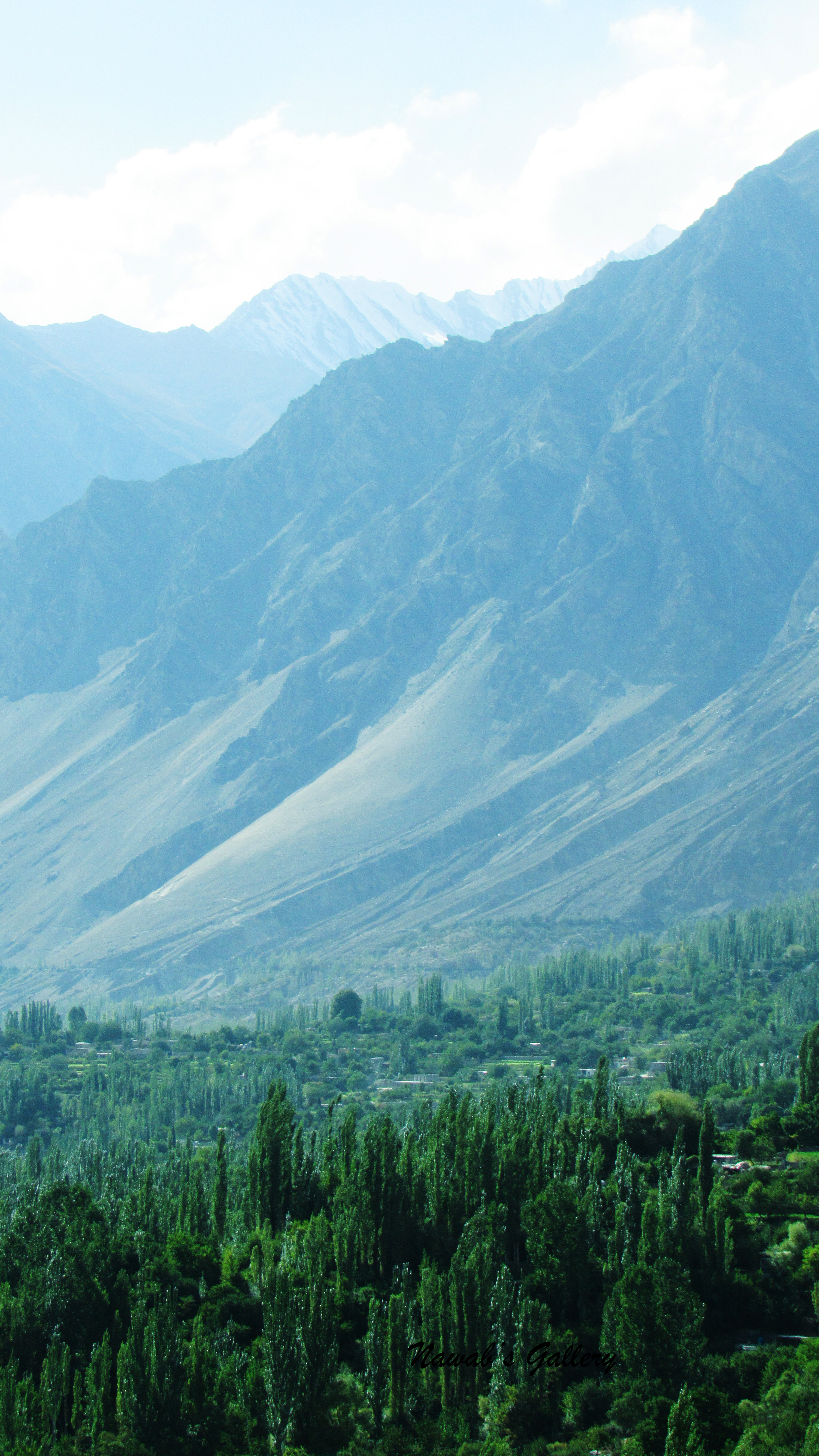 While we settled ourselves in the hotel, my wife told me that she is going to visit her friend in the valley that is in front of the hotel. The family of my wife's friend owns a big portion of the garden in this valley where they also own a house. My wife and children walk down the valley to meet her friend while I take a nap in the hotel.
Nearly after an hour, my family return and then I also went downstairs on the main road and started to walk toward Karimabad Bazar. Karimabad city is built along the border of the mountain and is sloped upward to Ultar Sar starting from Karakoram Highway. Along both sides of the main road, there are stores and hotel buildings, the residential houses are below either in the valley or just little up on the mountain. There are many shops along both sides of the main road; we went into the first shop that is on the left-hand side of the road directly after our hotel. This shop sells gems and jewelry and is led by local women. From the time we arrive in this area we found its people courteous and soft-spoken, they steer us at every spot and quick to offer any sort of assistance. After visiting this shop, we move toward another shop on the road this shop sells handmade rugs and carpets. These carpets are extremely beautiful and nicely woven by the local workers, there are also handmade jackets and shawls, and since my wife loves shopping, she immediately started bargain and pick the items.
The Hunza valley is popular for Camping, Swimming, Hunting, Hiking and Trekking, Mountaineering, Mountain Biking, Horse riding, Eco tours, Skiing, Safari tours, Fishing, Gliding and many other activities, for that there are many shops in Karimabad that sell equipment required for these activities. The equipment can either bought from here or rented from these stores. Paper maps of these areas are also available in nearly every shop and one can even hire a local tour guide for hiking and trekking.
Going forward, there is a link road leading upward toward Baltit Fort this is a 700 year old fort and belongs to Mir of Hunza (but it is vacated by them in 1945) and is now considered as World Heritage by UNESCO.
On our last visit to Karimabad, we found a teashop near this junction, but at this time it was closed, by asking the shopkeeper from the next shop we come to know that owner of the shop has some function in his family and the shop will open tomorrow. So now, we started to travel on the Baltit road that leads to the Baltit Fort.
Hunza valley is rich in gems and precious stone there are many stores in Karimabad from where one can purchase these stones, suited according to their birth sign. Thither are many types of gems and stones available in Karimabad, some of them are stones like Ruby, Emerald, Aqua Marine, Sapphire, Tiger Eye, Quartz, Turquoise, Lapis Lazuli, Carnelian (Aqiq), Tourmaline and many others. On the route to Baltit Fort, there is a store by the name "Mountain Art & Gems Gallery", it is a store with the enormous collection of gems and stones, this shop's proprietor is our nice friend, as we entered the shop he was so excited to see us and immediately come out from the shops counter to greet us.
We sit for a long time at the shop having a chitchat and then decided to move forward toward Biltit Fort. On the way before Polo ground, we saw a small shop where a woman is cooking some food, by asking she told us that she is making the famous food of Hunza by the name "Chapshooro". Moreover, what is the difference in her food is that she cooks all her food with organic material like pure wheat flour and walnut oil. We placed an order and started chitchat with her while she cooks "Chopshooro" for us. She is a well-educated woman and during the talk, she told us that she has completed her master's degree in "Food and Nutrition" from Japan. The aroma of "Chapsooro" was amazing and she severed it with homemade "ketchup" with the tomatoes grown on her own farm.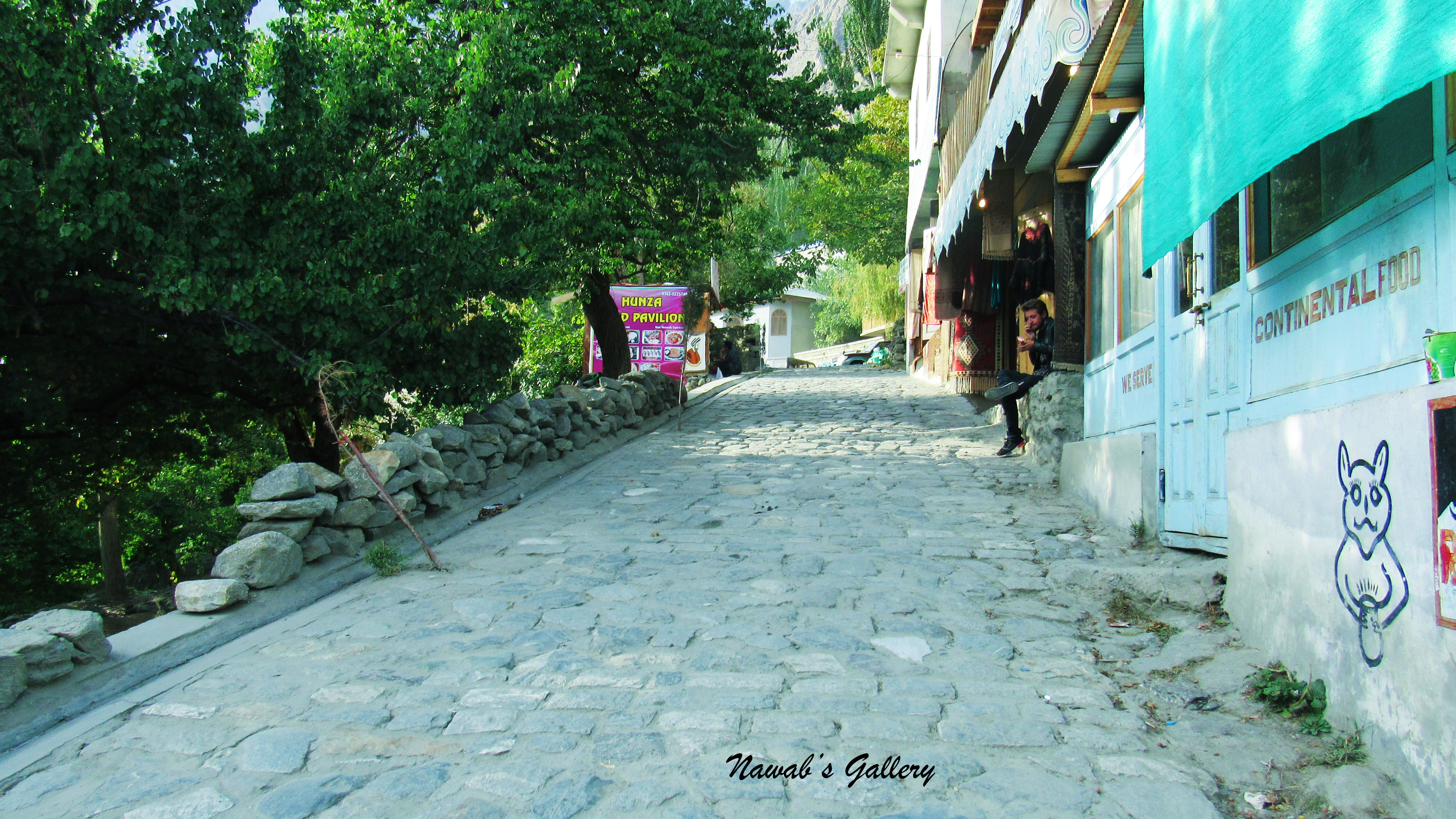 Finishing the delicious "Chapsooro" we return to the hotel for a rest. We wake up at evening, in front of our room; there is a large balcony with table and chairs positioned around for sitting. We sit on the balcony and placed an order for tea, in front of us is the most hypnotizing scenic view of lush green trees, the Hunza River and the magnificent Rakaposhi Mountain. We again went downstairs and roamed around the Karimabad main Bazar until night.
There were number foreign visitors around this place; they are from China, Korea, Britain, Germany, USA and many other countries. Roaming and shopping around the city and meeting different foreigners we arrive back to our room. We placed an order for the dinner that is of "Biryani (Rice)" and waited in the food area while the Biryani is prepared. After dinner, we return to our room and fell asleep after such a fabulous day, with a plan in hand for the coming day.